Integrate Shared Calendar in Outlook
Download the plugin from here:
https://download.kopano.io/community/olextension%3A/
List all Users
kopano-admin -l
How to renew a Let's Encrypt SSL certificate on a Kopano Server
There is no one way to do this, but you could try this sequence:
service httpd stop;/usr/bin/certbot renew;service httpd start;service kopano-gateway restart
The above procedure:

Stops the web server
Runs the certbot renew command
Restarts the web server
Restarts the kopano-gateway service
How to block an email from a user using the Kopano Web App
Users can block emails from other users using the Kopano web application. Here are the steps:
1. Log in to https://domain.com/webapp/ with your username and password.
2. Got to "Settings" top right
3. Go to "Rules" and press "New"
On the rule form, do the following:
Fill in the "rule name" (can be anything for example delete all email from [email protected]
Underneath "When the Message…" choose "…is received from" and go to "Select one…" and type the errant email address (by From: at the botton)
At "Do the following…" choose "Delete the message".
Save the rule.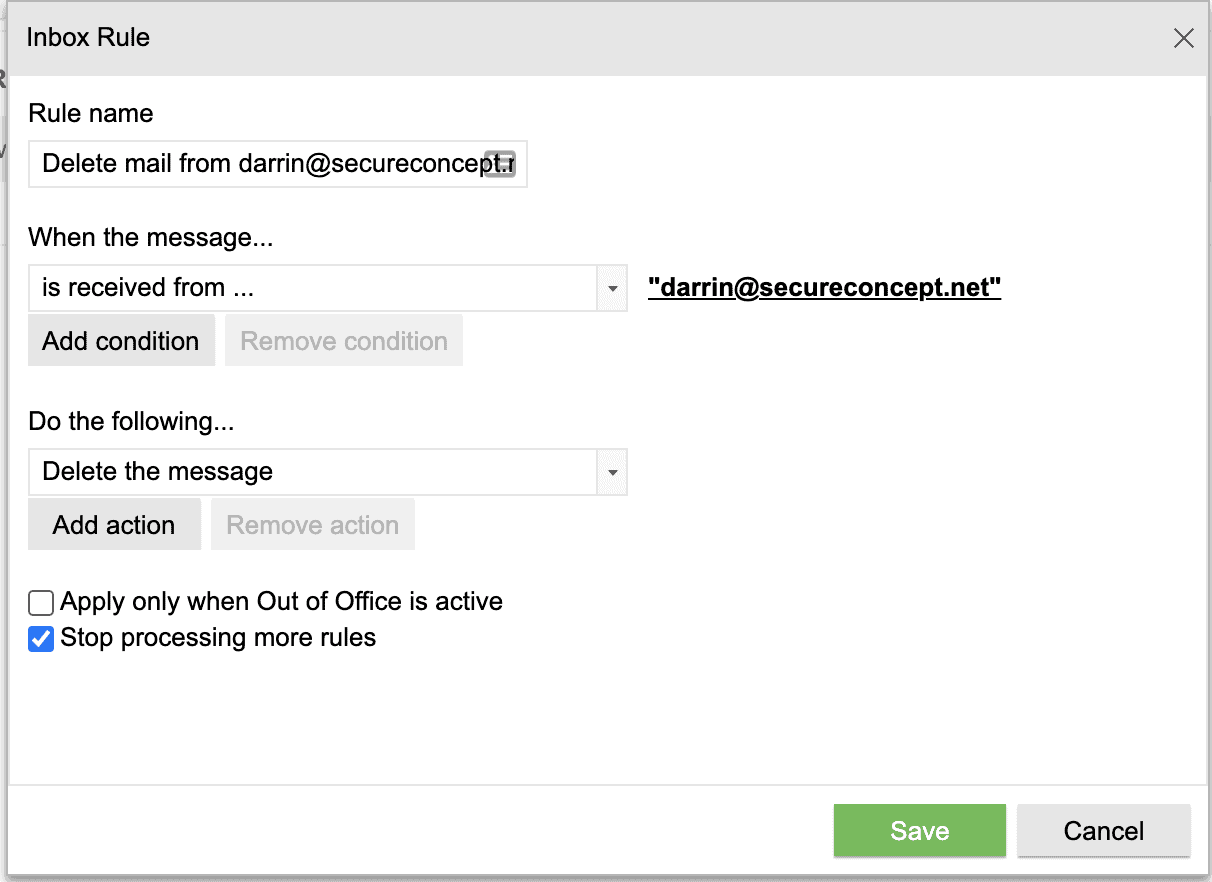 How to reset a Kopano password
Kopano passwords are reset using the command line.
SSH to the server
Use this command
kopano-admin -u [email protected] -p NewSecret
User information updated.
If you have an older version of Kopano, as in ancient, do the below instead. All that's difference is kopano-admin is replaced with zarafa-admin
zarafa-admin -u [email protected] -p NewSecret
User information updated.
Reference
https://documentation.kopano.io/kopanocore_administrator_manual/user_management.html#updating-user-information-with-db-plugin
How to create a new Kopano user
kopano-admin -c [email protected] -p secret -e [email protected] -f "Full Name"
How to delete a Kopano user
kopano-admin -d [email protected]